On April 4th 2009, In Belgrade, Caritas SCG and Caritas Italiana signed a memo with Serbian Ministry of Health, regarding the concentrated and joined efforts in offering services to mental within health protection program in Serbia.
The meeting was attended by the president of Caritas, msgr Stanislav Hočevar, the director rev. Vladislav Varga, coordinator Mr. Darko Tot, project coordinators Danijela Varšic and Jelena Barać. For Caritas Italiana the present were don Livio Corazza, Laura Stopponi and Daniele Bombardi, while on the part of Ministry, the meeting was attended by the Serbian Minister of Health Dr Tomica Milosavljević.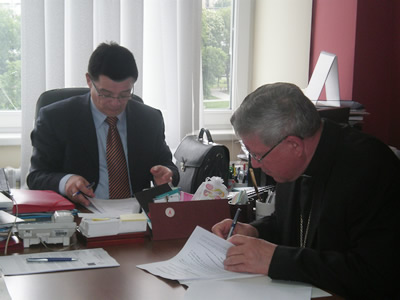 Caritas SCG and Caritas Italiana have been working together on mental health protection program since the year 2000.
Since January 2008 these two organizations work together with the Serbian Ministry of health on the project of "Mental Health Promotion in Serbia", co financed partly by the EU.
In the next period, caritas will organize a campaign, regarding the World Mental Health Day, together with Ministry of Health, traditionally held on October 10th.