In cooperation with JKP "Informatika" from Novi Sad, Caritas initiated a fund raising action for Elderly care. The campaign goes under the name "They Deserve Attention".
The campaign follows the placement of donation boxes inside the premises of JKP "Informatika" where the citizens of good will can make a donation for the elderly that live on the verge, or in poverty. Aside from donating to the boxes, anyone can make a donation by making payment to the active account of the Caritas' Elderly Care program: 220 – 31186 – 42.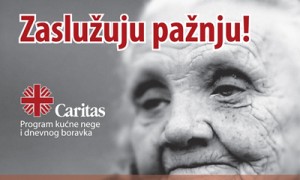 The funds raised will be used to help and boost the Elderly Care project led by Caritas – a program that helps elderly people on the verge, or in poverty, without families, care, and security or in illness.
In average, one in four persons needs help in food preparation, and one in seven in maintaining the personal hygiene. These people need the attention of professional staff. Caritas started the Home Care program and has successfully maintained it for the past years over several cities in Serbia. Monthly this program helps about 2800 elderly people. The program includes a great number of volunteers with help the project with their selflessness.