SOCIETIES – Support Of CSOs In Empowering Technical skills, Inclusion of people with disabilities and EU standards in South East Europe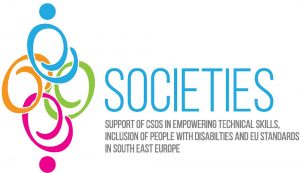 Overall objective: to improve the capacities of CSOs in South East Europe (SEE) in managing social inclusion processes and in promoting social inclusion policies, through an efficient dialogue with Public Authorities during the decision-making processes.
Specific objectives:
to strengthen the CSOs' skills in promoting the social inclusion of people with disabilities and mental disorders: capacity building, exchange of knowledge, regional networking, managing of social inclusion initiatives and services, monitoring and evaluating of the social impact.
to foster the CSOs' capacities in the dialogue with the Pubic Authorities responsible for social inclusion: strategic and communication planning, advocacy, local networking, participation to decision making processes.
Estimated results:
CSOs empowered in promoting social inclusion processes for people with disabilities and mental disorders.
Efficiency of CSOs initiatives for social inclusion increased, being based on proper evaluation of the social impact of the initiatives.
Regional CSOs network for social inclusion regularly fostering exchange of practices & experiences.
CSOs empowered in: participation on decision-making processes, advocating for social inclusion process, fund-raising strategies, and communication.
The quality and the efficiency of the dialogue on social policies between CSOs and Public authorities increased.
Implementing partners: 16 organization
Caritas Serbia, Udruženje za podršku osobama ometenim u razvoju Naša kuća (SRB), Caritas Bosnia and Herzegovina, Udruženje za uzajamnu pomoć u duševnoj nevolji TK Fenix (BIH), Caritas Albania, Albanian Association for Psychotherapy, CoDe Albania,  Caritas Bulgaria, Bulgarian Center For Not-For-Profit Law, Maria's World Foundation (BG), Caritas Italy, Psicologi per i Popoli nel Mondo (IT), Caritas Montenegro, Udruženje paraplegičara Bar, Caritas Kosova, Kosovar Centre for Self-Help.
Donor:
European Union, represented by the European Comission within the CIVIL SOCIETY FACILITY AND MEDIA PROGRAMME 2014-2015.
More details about the project: www.projectsocieties.org