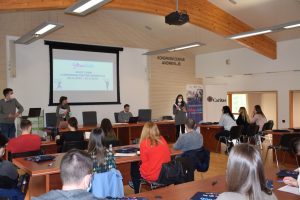 The third boot camp for future young entrepreneurs within the YourJob project was held at the Andrevlje Ceptor Hotel on Fruška Gora from April 20 to April 21.  23 young participants from Aleksinac, Zrenjanin, Irig and Ruma had the opportunity to develop skills and gain new knowledge about starting and running their own (social) business during this four-day training. They presented their business ideas and worked together with their mentors on their improvement. The training was led by Mr. Neven Marinović and Ms. Neda Stanković, renowned trainers from Smart Collective, a non-profit organization, a leader in promoting the concept of socially responsible business and the development of social entrepreneurship in Serbia. Also, some of entrepreneurs and businessmen with rich expirience shared their wisdom with the participants who found it very useful and interesting.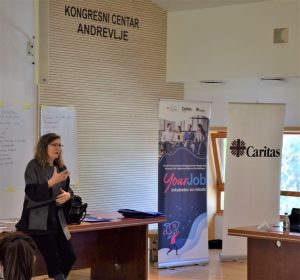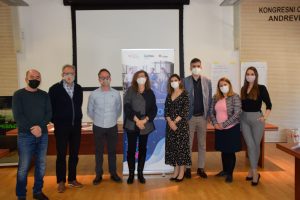 The boot camp was also visited by Ms. Sabine Kroissenbrunner, Deputy Head of Mission at the Austrian Embassy in Serbia, who greeted the participants and wished them much success in their further work. Ms. Kroissenbruner expressed her enthusiasm for the diversity and innovation of business ideas she heard and told the participants to never give up in front of the many obstacles that will await them on the road to success. Ms. Kroissenbruner was actively participated during the presentations and was giving her suggestions to young people who was grateful to hear it from person with such experience.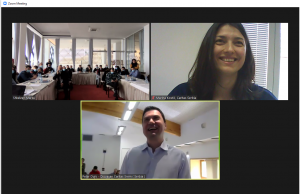 One of the highlights of this event was the merging of this bootcamp with the bootcamp in Albania. Through the zoom application, the participants of the two bootcams participated together and at least briefly exchanged positive energy and some experiences. One  participant from Aleksinac will remember this day for the rest of her life, since her colleagues from Albania sang her birthday song.
During all four days, participants were supported by members of the YourJob team, led by the regional coordinator of the project, Mr. Tobias Noelke from Caritas Austria.
Members of the YourJob team congratulated the participants on their successful work and great ideas that the participants presented and introduced them to the rules and procedures for participation in the competition for grants. Participation in the boot camp is a prerequisite for applying for a grant to start private (social) business.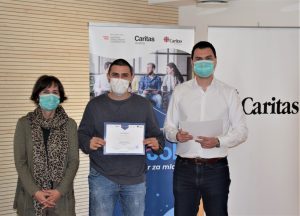 The boot camp ended with a ceremonial awarding of diplomas, which were presented to the participants by representatives of the Smart collective. This is the last of three boot camps to be organized as part of the YourJob project. Caritas continues to provide support and empower young people.