During the three years of YourJob project implementation, 207 young people from particularly vulnerable groups (people with disabilities, minorities, beneficiaries of social services…) were empowered
The goal of the YourJob project is to increase the employability of young people through the creation of concrete job opportunities, career guiding and counseling, competence development, providing internship and the first work experience and entrepreneurial practice, as well as raising awareness and readiness of employers to hire young people. Empowerment of young people with disabilities, as a particularly difficult to employ category of the population, is one of the priority goals of the project.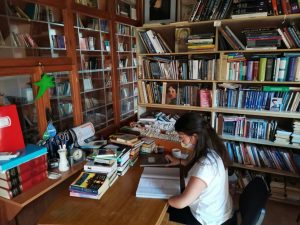 After graduating from high school, Vanja Šaru from Sutjeska near Sečanj could not find a job for a long time. As she points out, gaining the first work experience is the biggest problem of all young people, and it is especially difficult for people with disabilities to gain the opportunity to express their abilities, especially in villages and small towns. Thanks to the cooperation between the Caritas Zrenjanin and the "Jovan Dučić" Library from Sečanj within the YourJob project, Vanja had chance to perform a six-month, paid internship in this institution. With the professional help and selfless support of the director of the library, Mrs. Dragana Pantović, Vanja entered the world of books and gained her first work experience, as well as the knowledge and skills needed to work as a librarian. After six months internship, Vanja continoued with her work in library.  She expressed great gratitude to Caritas and members of your YourJob team, because she finally got the opportunity to start her career and achieve professionall goals.
We wish her all the best in further career!