In the spirit of solidarity and its mission, Caritas Serbia has joined in the fight against the COVID-19 virus pandemic, providing support to the health system of the Republic of Serbia. On November 23, in the premises of Caritas Serbia, Clinical Hospital Center Zvezdara received a donation in medical equipment worth over 27,000 euros. The donation includes pulse oximeters, pressure gauges and non-contact temperature gauges.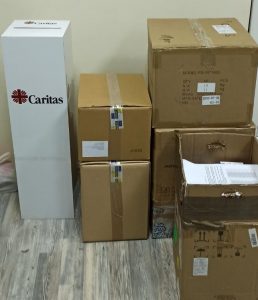 Funds for the purchase of equipment were raised thanks to the organizations of German Catholics Misereor and Renovabis, as well as the German Federal Ministry for Economic Cooperation and Development (BMZ), and the realization was carried out in coordination with the German company BEGECA Beratung – Beschaffung – Logistik gGmbH, which deals with procurement for church, humanitarian and social institutions.
This donation is part of a broader program within which additional quantities of protective equipment and hygiene products will be donated in Serbia.