The overall goal of the project Your Job is to empower young people and increase their competitiveness in the labor market. For this phase of the project, goal of Caritas Aleksinac was to get Your Job guidance counselors (GCs) involved in vocational guidance and career counseling programs  and thus to work more closely with high school students. During the autumn, GCs from Incubator for Youth Aleksinac paid special attention to graduates, as these young people are at a turning points of  their lives.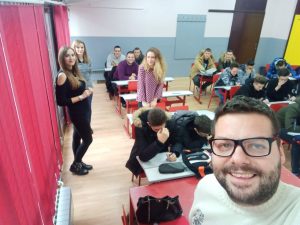 After several meetings with the principals, Memorandum of Understanding were signed with all three high schools in Aleksinac. Your Job GCs , Jovana Stojanovic and Vanja Jaksic, presented the project at student parliamentary meetings. Representatives from over 50 classes are aware of the opportunities the project offers to young people. During September, in cooperation with school pedagogues, the first info sessions with all interested students of the final grades were planned. Over the next two months, three info sessions were successfully implemented, with over 100 students participating.
Soon after the first info sessions, the first meetings with the school's career guidance and counseling (CGC) teams were arranged. Coordinator for CGC at the Technical School "Prota Stevan Dimitrijevic", Ms Maja Nesic and a school pedagogue, Ms Daliborka Stevanovic, gave the approval to Your Job GCs to organize an initial workshop on self-assessment and professional orientation in each class.
During November and December, 5 workshops were held (one in each of the final year classes), attended by approximately 130 students. At the request of the students themselves, it was agreed with Ms Nesic that the cooperation should continue in the long term after Christmas break. Also, at the beginning of 2020, these workshops will be held at the Aleksinac Grammar School and at the Agricultural School "Sumatovac". We are pleased to note that Your Job Incubator for Youth of Caritas Aleksinac has successfully achieved goals set in this short time, established cooperation with schools and encouraged high school students to become actively involved in project activities.