Career Guidance and Counselling (CGC) refers to the process, services and activities aimed at supporting an individual, of any age and in any part of his/her life, to make decisions regarding education, training and occupation and to manage his/her career. Furthermore, it's an important framework that enables the application of the concept of lifelong learning and provides support to the individual in moving through qualification levels, reaching labour market mobility and developing career management skills.
After three years of the implementation of the YourJob project in Zrenjanin, more than a thousand young people that benefitted from our activities and services, and in light of a new project phase, there was a need to systematize and procedurally present our career guidance and counselling activities.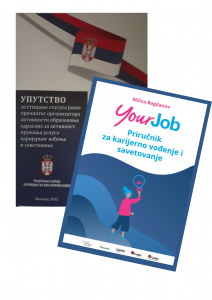 In Serbia, the legal framework has recently enabled also civil society organizations (besides educational institutions) to accredit their programs for CGC with the Qualifications Agency. Thanks to the accreditation, the organisation acquires the status of Publicly Recognized Organizer of Adult Education (JPOA). In other words, this represents an opportunity for our YourJob activities and services to be publicly recognized at the national level. Moreover, our certificates of the provided CGC services will be recognized in all institutions of the Republic of Serbia.
In summer 2022, we started developing the program for the accreditation according to the Guidelines issued by the Qualifications Agency. We started from a blank sheet of paper, but with many ideas, experience and enthusiasm. It was necessary to put our entire work within the framework of service standards defined by legal acts.
After almost six months of work, the request was sent to the Qualifications Agency, it was December 2022. Our accreditation decision arrived in May 2023.
The preparation of the program included the fulfilment of different standards and requirements. Indeed, our program for CGC had to present expected outputs according to the Rulebook on the standards of career guidance and counselling services. The standards are described in four areas that are methodologically harmonized and content-related:
1) career management skills;
2) competencies of career practitioners;
3) organization of services;
4) program.
It was a bit difficult and challenging task, but we had a great ambition and collegial support. During the whole process we exchanged experience with colleagues and other organizations that were also undergoing the preparation for the program accreditation.
With this accreditation, Caritas Zrenjanin proves its professionalism and credibility through the fulfilment of all required program and technical standards for the provision of CGC services. In future, this accreditation could bring possibilities for sustainability of the career guidance and counselling services through public fundings.
Accreditation is the greatest benefit for young people, because they have the opportunity to receive professional service in their city, through which they can discover and understand themselves, see the possibilities of the world of work and the world of education, and start planning their career in a responsible way.