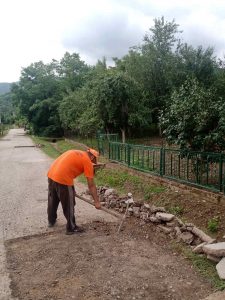 Providing employment support to young members of particularly vulnerable social categories, such as people with disabilities or members of national minorities, is one of the priority goals of the YourJob project.
After graduating from the Elementary School for Children with Disabilities "Laughter and Tears", 27-year-old Aljos Durakovic from Aleksinac, no matter how hard he tried, could not find a job. Due to various prejudices, he never got a chance to prove himself. He lives with his child and unmarried wife, together with seven other members of his family. Aljos has long been a beneficiary of the Center for Social Work and a recipient of financial social support, but he wanted the opportunity to live from his work. He wanted to be useful. Thanks to the YourJob project and the achieved cooperation with the Public Company for Roads Aleksinac, Aljos was given the opportunity to gain the first work experience and skills needed to perform road work through a six-month internship. We believe that Aljos will prove that he is a hard-working, responsible and capable worker and that this is only the first step towards his employment and a more dignified life.
We wish him good luck!
Caritas in Serbia continues to fulfill its mission and care for all vulnerable categories of the population, as well as individuals in need.
[