At the Safe House in Zrenjanin, a collaboration between the Zrenjanin Social Work Center and Caritas Zrenjanin on Your Job project was presented to the public. Young beneficiaries of social protection services – Safe House, are included in the program of economic empowerment and increase of their employability.
On this occasion, the Manual "Employment Training for Young Beneficiaries of Social Welfare Services – Safe House" was presented to the public. The authors of this manual are Ms Milica Bogdanov, guidance counselor on the Your Job project and Ms Andrijana Stojanovic, an expert at Safe House. The guide is intended for educators, psychologists, social workers and anyone involved in the economic empowerment of women in order to get out of the circle of violence.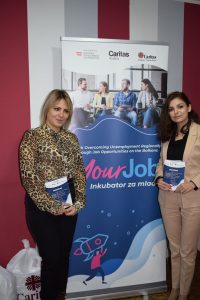 "Economic dependence is the most common reason why women who are victims of violence return to the abuser after leaving the Safe House. Many of them have no work experience at all. It was the partner who was employed, and women were, most often, forbidden to work. We realized that the collaboration with Caritas on the Your Job project is an opportunity to help women empower themselves economically and get out of the circle of violence, "says Ms Andrijana Stojanovic.
"Beneficiaries of the Safe House will attend five workshops: from self-awareness and motivation, through job search and job application, to business behavior and job retention. They will have the opportunity to attend training and courses in some professions such as sewing, tailoring, bookkeeping … Anything close to them. They also have the opportunity to attend a professional internship program with an employer. Finally, they will be able to apply for grants to start their own private business", explained Ms Milica Bogdanov.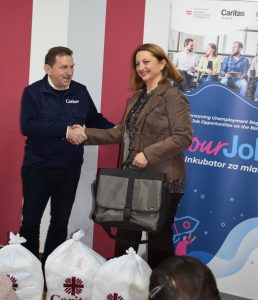 The importance of the project for the whole society was discussed by Ms Olivera Lisica, Director of the Center for Social Work Zrenjanin, Ms Aleksandra Strbac from the National Employment Service, and Ms Marina Kostic, Project Coordinator in Serbia. The director of the Diocesan Caritas Zrenjanin, Mr. Tibor Halmai, donated a donation to the Safe House in the form of everyday necessities, as well as a laptop, which will be used for training of beneficiaries.