A round table on the topic "Youth and Entrepreneurship" was held in the ceremonial hall of the Municipal Assembly of Aleksinac on October 13. The round table was organized within the project YourJob with the aim to present the results of the project, other opportunities to provide support to young people in Aleksinac, but also to present the challenges that young entrepreneurs in this municipality face.
Since the YourJob project was created on the initiative of Caritas Austria, and was realized thanks to the financial support of the Austrian Development Agency, the round table was also attended by the Austrian Ambassador to Serbia, His Excellency Mr. Nikolaus Luteroti. He expressed satisfaction that Austria has the opportunity to support such a successful project and emphasized Austria's support for Serbia on its path to the European Union. Prior to the event, His Excellency had the opportunity to visit Caritas Aleksinac and get acquainted with the work of this parish Caritas, as well as to visit some of the grant beneficiaries for starting their own business and young people on professional practice within the YourJob project.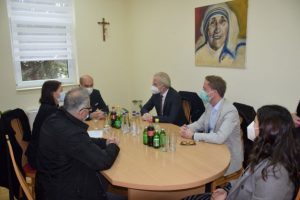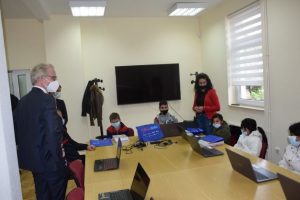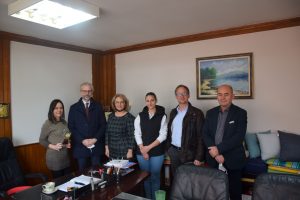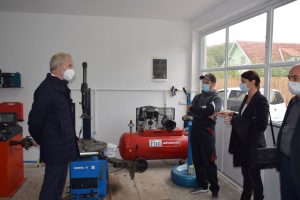 In addition to the Ambassador, the participants of the round table were the Mayor of Aleksinac, Mr. Dalibor Radičević, Head of the Employment Service in the NES, Mr. Dragan Milojković, Mr. Milan Babić, Director of Co-working space "Deli" and Mr. Stefan Đurić from the Office for Local Economic development.
Of course, the winners of grants from Aleksinac – Tamara Matić, Anica Lazić, Ilija Randjelović and Dragan Stojanović – also presented their businesses and the challenges that young entrepreneurs face. The advisor Jovana Stojanović and the director of Caritas Aleksinac, Mr. Goran Žalac, spoke about the possibilities provided by the YouTube project, but also about other activities that Caritas Aleskinac realizes.
The conclusion of the round table was that young entrepreneurs in Aleksinac face numerous challenges and difficulties, but that with the synergy and support of all factors in society, public, civil and private sector, it is possible to improve their position.