Caritas Bosnia and Herzegovina and Caritas Serbia recently received recognition for their exceptional work in disaster risk reduction. On March 1stthey were awarded by the Ministry of Security of Bosnia and Herzegovina for supporting disaster risk reduction in their respective countries and co-operating across borders. Caritas Bosnia and Herzegovina's main contribution was a Memorandum of understanding with local authorities, whereas Caritas Serbia produced a creative set of colouring books to educate children on disaster risk reduction.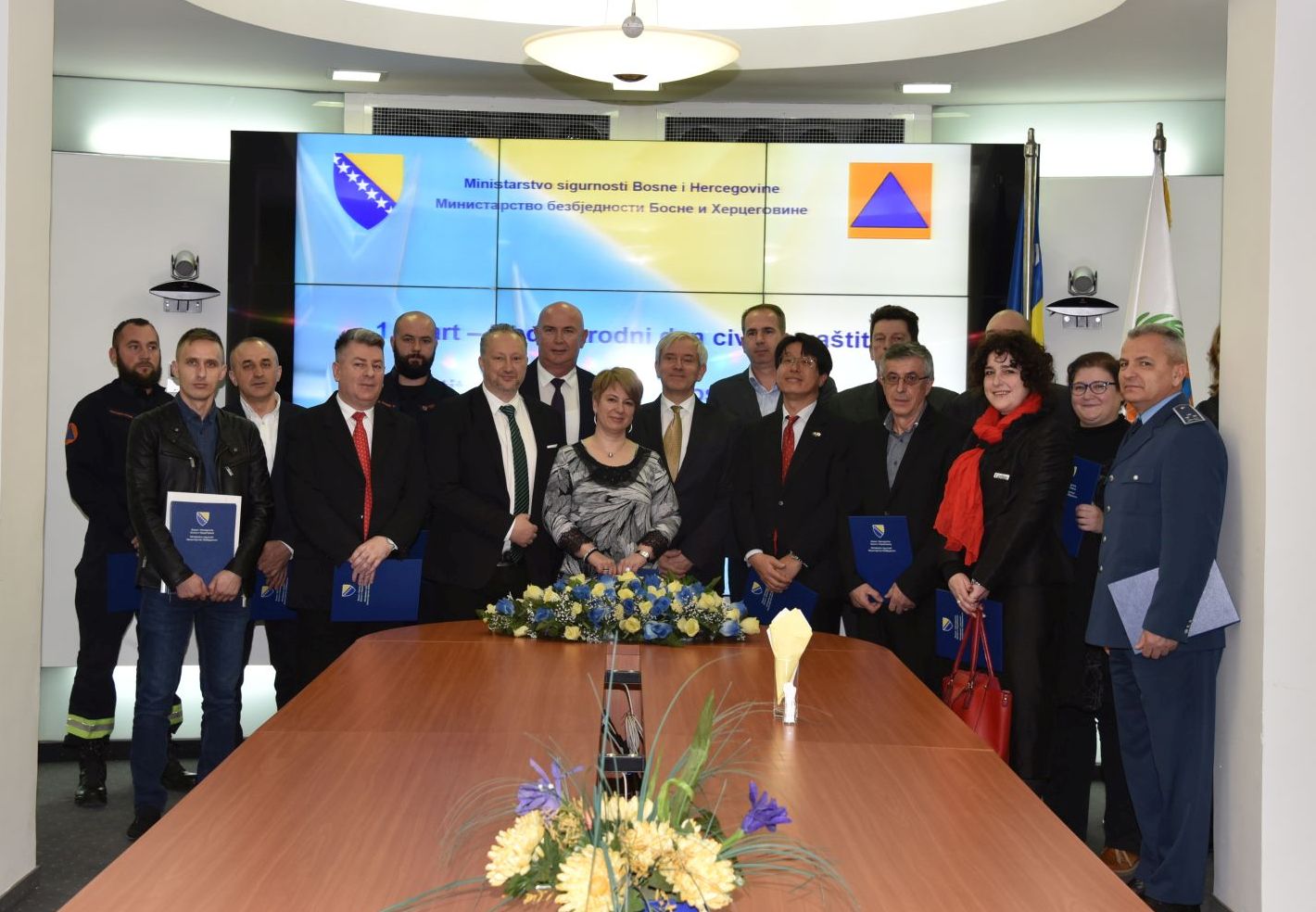 Caritas Serbia's Disaster Risk Reduction (DRR) work started in 2014 as a response to catastrophic floods that hit Serbia and the region. Throughout these 5 years, the multidirectional approach included both grassroots actions and national institutional work. Thanks to the invested efforts, Caritas in Serbia was able to contribute to improvement of DRR in Serbia in general and to help entire communities to build, or increase, their resilience.
While the target group is the entire society, special focus is given to education of children about natural disasters and environment protection. Caritas Serbia applied its practical knowledge and experience gained from field work to create unique education material for children up to the age of 10.
The material was developed through a comprehensive process which included continuous and extensive cooperation with the Sector for Emergency Management of the Ministry of Interior of the Republic of Serbia and the Public Investment Management Office, with the support of the Ministry of Education, Science and Technological Development.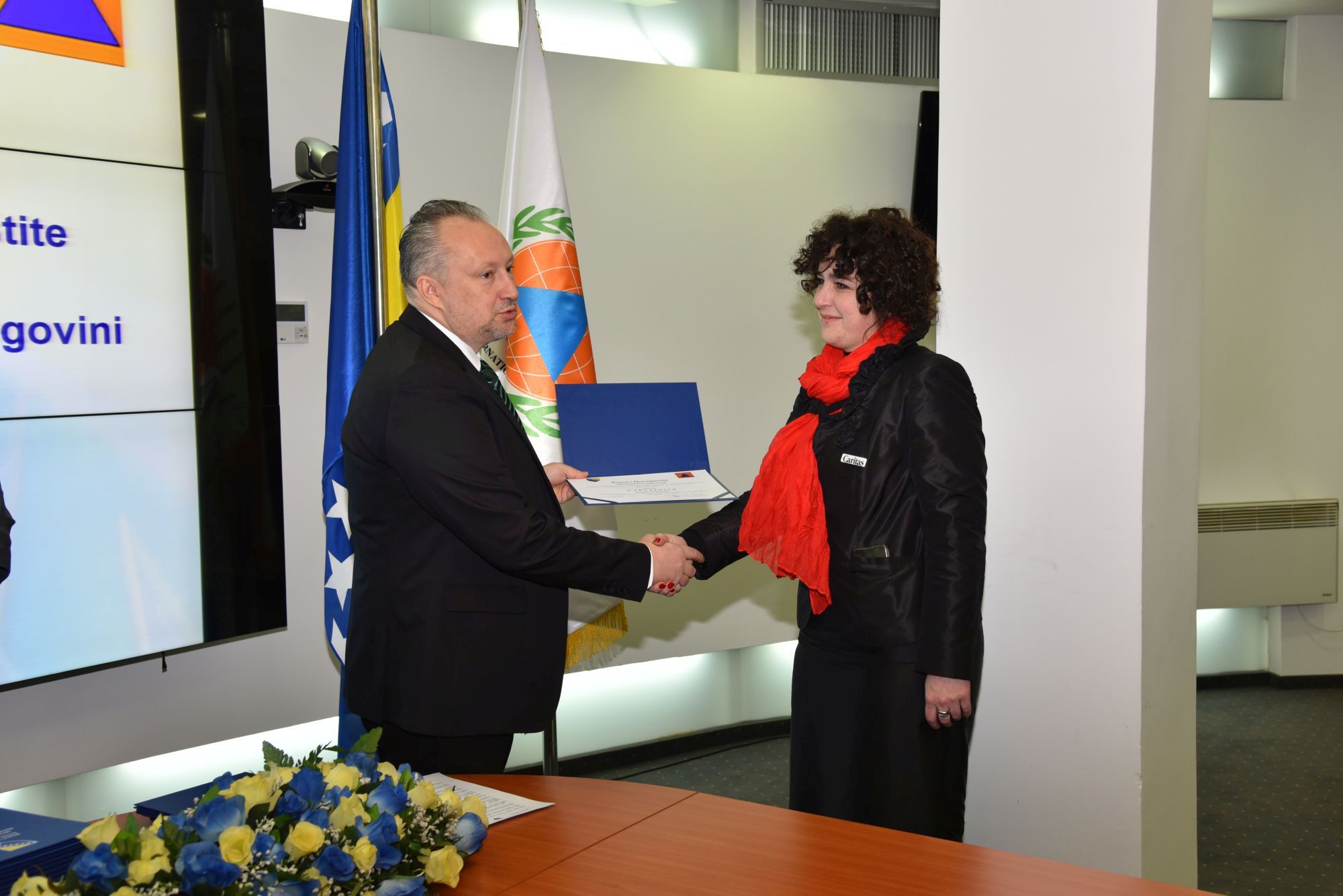 The set of materials consists of coloring books about storms, fires, floods and earthquakes. In addition, materials on floods and fires have special editions adapted to children with disabilities.
Unique work done by Caritas Serbia, its quality, didactic value, and the potential impact on children's education and protection, has been recognized not only in Serbia, but also regionally, which led of neighbouring countries.
The Ministry of Security of Bosnia and Herzegovina and the Directorate for Emergency Management of the Ministry of Interior of the Republic of Montenegro will use the educative set developed by Caritas Serbia in their future activities of prevention and education of children.
Celebration of March 1st – World Civil Protection Day – was an opportunity for the Ministry of Security of Bosnia and Herzegovina to officially thank Caritas Serbia for cooperation and assignment of the copyrights of the educational set. On behalf of Caritas Serbia, Jovana Loncarevic, project coordinator of the Disaster Risk Reduction project, was awarded during a ceremony that took place on March 4th in Sarajevo.
Institutions of the Republic of Bulgaria and the Republic of North Macedonia have also shown interest for educational materials, which confirms that Caritas Serbia has been recognised as an important partner to the national institutions in Serbia, as well as those in the region, in the process of education, with the goal of disaster risk reduction.
Considering that interest for video materials that Caritas Serbia is developing has also been expressed by neighbouring countries, Caritas Serbia's DRR work will continue to contribute to better prevention and preparedness of children and adults in Serbia and in the region.